Warehouse Rental in Lakeland, FL
Kroon's Enterprises is a family-owned and -operated warehouse leasing company, located in the heart of Lakeland, FL. We offer business customers a space to start or grow their business, with convenient amenities, secure facilities and the accessibility they need. Contact us today regarding leasing terms and unit availability!
Get the Warehouse Space You Need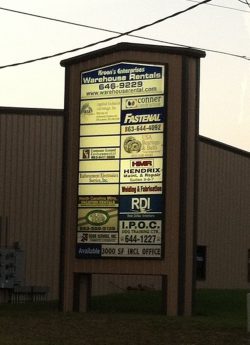 Getting your business off the ground and streamlining your operations takes the right space, in the right location. Kroon's Enterprises provides budding and established businesses with warehouse space for rent in Lakeland, FL, to ensure you have a space that's accessible, convenient, clean and ready to support your operation. Our warehouses can accommodate almost any business from any industry and range in size from 1500 to 12,000 square feet! Plus, every space comes with an office and on-site parking, giving you and your team ample opportunity to get down to business.
Every one of our warehouses for rent are in Lakeland, FL—a crossroads for commerce in Florida. This ensures you're not far from the Port of Tampa or any of the interstate highways! Take advantage of this area's many opportunities, including a lack of state income tax, low utility costs and available labor. It all starts with a convenient warehouse rental and flourishes thanks to the local economic climate!
From the moment you move into your unit, we promise your expectations will be met and exceeded. We go above and beyond to make sure your warehouse rental in Lakeland, FL is accommodating to all of your needs, even including things like roll-up door accessibility and air conditioning. Schedule a visit to one of our available units today and we promise the choice to lease with us will be clear!
Our expansive units range from 1,500 sq/ft to 12,000 sq/ft in size, offering a wide range of sizes in between to meet your warehousing needs.
There's plenty of parking available on-site at our warehousing facilities, ensuring you and your staff have a place to park.
Our facilities and premises are protected by CCTV cameras, ensuring wrongdoers are deterred and any concerns are monitored.
We have air-conditioned units available, along with units that feature 14' roll up doors. And, don't forget, all units come with at least one office!
Our business has been family-owned and -operated since 1990. We offer gross leases, giving you full control over the management of your warehouse space.
Establish Your Space
Looking for a warehouse space to start and grow your business? Kroon's Enterprises offers affordable gross leases, comfortable amenities and convenient locations! Contact us today.
Polk County, FL
Lakeland, FL
Orlando, FL
Tampa, FL